Overview of a Shipping Container Cabin
Over the years, the idea of living in a shipping container cabin has been steadily gaining popularity as a go-to option for creative home builders and minimalists alike. These repurposed giants of the sea are undeniably unique and quirky, and they open the door to a world of unconventional architectural possibilities.
After all, who doesn't love the idea of converting a giant hunk of steel meant for shuttling goods across the ocean into a cozy, eco-friendly abode? One of the main reasons behind their soaring popularity is their affordability compared to traditional housing alternatives.
Plus, let's not forget that it's always great to give new life to something that would otherwise end up in a landfill, satisfying our dark, green souls.
In addition, these unique homes allow for speedy construction and flexible customization, giving homeowners the freedom to live out their wildest container cabin dreams.
Prior to building our tiny houses, Cully and I strongly considered b a shipping container home. The only reason we went with a shed to tiny home conversion was time.
By going the route we did, we shaved several months off the process. This was only due to the fact that where we live (and at the time), it would have taken longer to source a shipping container than to go the wood stick built route.
But you bet this gal still has ALL. THE. PLANS to build something out of shipping containers. Whether it be our garage, our main home, or perhaps a guest house, we will absolutely be the proud owners of a shipping container cabin one day.
**This post may contain affiliate links, which means I may earn a small commission if you make a purchase using one of these links.  However, I only recommend items I personally love. Thank you for your support of my creative business!**
Benefits of Building a Shipping Container Cabin
As I delved into the vast land of shipping container cabin research, it became clear that finding a comprehensive one-stop shop for information was about as easy as finding the last roll of toilet paper during a pandemic.
So, I took it upon myself to write this post to highlight some of the awesome benefits of these eco-friendly dwellings.
For starters, a shipping container cabin is the epitome of recycling, giving new life to a giant hunk of metal that could have otherwise ended up as a rusting, rotting eyesore.
Plus, its durability can withstand everything from harsh weather to the wrath of Mother Nature's angrier cousins (zombie apocalypse, anyone?).
Shipping container cabins are also customizable, allowing you to unleash your creative side as you mix and match containers to create your dream vacation spot, doomsday bunker, or secluded haven from the world's chaos.
So, let's gather 'round the proverbial bonfire and embrace the shipping container cabin revolution together…
Design Considerations for Your Shipping Container Cabin
Designing a cozy, quirky, and eco-friendly shipping container cabin can be a surprisingly fun and rewarding task.
As you plan your compact steel hideaway, it's vital to consider the multifaceted world of design elements, which can make the difference between a metallic monstrosity and a snug steel sanctuary.
Your overall design will partly depend on if your cabin will be on the grid or off the grid. Our tiny houses are 100% off grid and space is limited! A shipping container cabin will also face the unique challenges of lack of space (assuming you are not building a mansion).
Oftentimes, shipping container homes are built in areas that have more flexible building rules and regulations. Therefore, getting a permit for this style of home is within reach.
Knowing your local building codes is the first thing you should check to make sure your final design meets all code criteria.
Design items to consider include…
Purchasing a quality container
Not all shipping containers are created equal. You've got your high cubes, your standard Joes, and the fancy, chilly ones (aka refrigerated). When choosing a container, be sure to check the overall condition and watch out for any rust, holes, etc… that may turn into issues during the building process.
Insulation
Isn't it amazing how something as simple as insulation can make all the difference in the comfort of our homes? When it comes to pesky narrow walls found in shipping container cabins, spray foam insulation has become a trusty sidekick. Spray foam insulation boasts a higher R-value compared to some other insulation styles. R-value tells us about the material's ability to resist heat flow, and the higher it is, the better it performs.
Deciding on a foundation
You can't just plop down your new abode on the ground. If unprotected from water or eroding soil over time, you risk your home sinking or getting damaged over time. Not to mention it likely won't pass inspection without a foundation. To be safe and stay up-to-code with local regulations, build a foundation of concrete slab. That's generally standard issue when building out these unique cabins.
Related reading: Tiny House on a Foundation: What are your options? 
Space for plumbing and heat/ac
Don't forget to take into consideration some plumbing items you may need like a pressure tank and hot water heater. Also, think through in advance how you will heat and cool your cabin. Be sure to plan for space where those devices will be placed.
Space for solar power
Ready to embrace solar energy and go 100% off-grid? Awesome! Just make sure you've got enough space for your solar setup and those precious batteries. Remember, those babies can be pretty sensitive to temperature, so keep them cozy in a temperature controlled space. Trust us, you don't want to freeze and kill your pricey batteries! 😬✌️
Step-by-Step Guide to Building a Shipping Container Cabin
Embarking on the journey of building a shipping container home may initially seem like a daunting task. It's natural to feel a bit overwhelmed as you consider the myriad of rules and regulations to navigate. Not to mention the challenge of designing a space that encompasses both functionality and style.
Imagine the joy, however, when every finishing touch finally comes together as an ultimate expression of your unique and eco-conscious abode.
In general, there are 15 steps to building a shipping container cabin:
Plan your project
Get building permits
Prep your site
Lay the foundation
Purchase/place the shipping container
Cut windows and doors
Frame the inside walls
Install exterior windows and doors
Rough-in electric and plumbing
Insulation
Hang drywall (or preferred wall finishes)
Install flooring/baseboards/interior trim/doors
Install kitchen cabinets, lights and bathroom fixtures
Decorate
Celebrate!
Remember that you are not alone in your endeavor: there are friendly and relatable resources and fellow container home enthusiasts available for support and guidance.
Click here to grab my favorite shipping container home resource. You'll get over 1100 pages of step by step shipping container building and best practice guidance.
There are a total of 4 digital books that cover every single topic of the shipping container home process:
Book 1: A Step by Step Comprehensive Guide
The first resource dives into the captivating world of container homes, covering over 180 fascinating topics to help you create your dream eco-friendly abode. Explore the nuts and bolts of container home building, from design to execution, uncovering hidden gems with each page you turn. I think of this as my personal DIY handbook, showcasing innovative ways to transform recycled shipping containers into breathtaking green homes and structures.
Book 2: Container Home Plans & Projects
Resource two is a 550+ page digital book, packed with awe-inspiring designs from across the globe. You'll explore 60 phenomenal projects that have left a mark on the container home market, all complemented with detailed plans, 3D models, and a treasure trove of color photos showcasing the dazzling exteriors, stylish interiors, and ingenious construction methods. An interior designer's dream!
Book 3: Examples of Container Architecture
Let others' projects spark your inspiration, as you browse through hundreds of vivid photos capturing the charming interiors and exteriors of these unique abodes. Get ready to be flooded with ideas for designing your dream home or kick starting your own business in the world of container homes.
Book 4: My First Container Home
Imagine diving into a captivating 56-page adventure where a fearless individual, together with her trusty friends, embark on an epic journey to build their very own container house! This engaging tale is jam-packed with details, revealing the protagonist's thoughts, theories, and practical applications.
Perfect for those who are stepping into the world of container home construction or seeking cost-effective ways to create a stunning space, this book offers inspiration and guidance. Witness how our heroine overcomes obstacles and resolves challenges with step-by-step clarity.
Grab all four books (plus access to a 3-D home design tool!) for only $47 by clicking here.
You won't be disappointed. I reference these resources time after time (even when we were building the tiny houses!), finding inspired and practical solutions for when it comes time for us to build our shipping container project.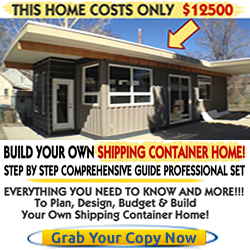 Tips and Tricks for Making the Most Out of Your Shipping Container Cabin
With the right tips and tricks, you can unlock the full potential of your shipping container cabin, truly showcasing your creativity and resourcefulness while making the most out of every square foot available.
As we embark on this journey together, let's delve into the innovative ideas and clever ways to personalize your cabin, turning the dream of a stunning shipping container getaway into a delightful reality. A relatable and friendly adventure awaits!
1. Focus on the essentials
Shipping container cabins are typically small, so be sure to focus on only putting in items that you will use and need.
2. Utilize vertical space
Take advantage of all available storage options by maximizing your cabin's vertical space with shelves, racks, hooks etc.
3. Invest in energy efficient appliances
Shipping containers can become quite hot during summer months so investing in energy-efficient appliances such as AC units and mini fridges is a must for comfortable living conditions.
4. Get creative with lighting
make use of natural light sources like skylights or windows when designing your shipping container cabin to save money and resources when it comes to electricity consumption
5. Insulate the walls
Adding insulation can help regulate temperatures within the cabin and keep out noise from outside sources
6. Install solar panels
Installing solar panels is an eco-friendly way to power your shipping container home while reducing costs associated with traditional grid electricity usage
7. Disguise exterior features
Using paint or other materials you can disguise any visible screws or seams found on the shipping container which could compromise its structural integrity over time
8. Decorate tastefully
Decorating your shipping container cabin can instantly transform it from a metal cube to a cozy and homey abode. Try using classic furniture pieces, warm colors for the walls, and accentuating with throw pillows and rugs.
Shipping Container Cabin Plans
Planning is essential for success, especially for big projects like building a shipping container cabin. Having a quality plan design can save you a ton of time, money, and even headaches.
It provides a blueprint for how the cabin should look and the materials you should use, so when it comes time to make decisions about construction, everything is already figured out. This way you know exactly what materials you'll need and how to order them in bulk instead of having to search around different stores for individual products.
A plan also helps to stay on track financially since there will be fewer unexpected costs that could break your budget. Investing some time upfront into having good plans will help ensure that your cabin gets built as efficiently and cost-effectively as possible.
I have found some of the most beautiful, detailed and well thought out plans from my friends over at Pin-Up Houses.
They have many unique house plans, including plans specific to shipping containers. I also love that they provide and estimated DIY building cost and a complete materials and tools list – talk about a no brainer purchase!
Some of my favorite shipping container cabin plans are pictured below. Simply click the image to get details of the building plan:
Explore all of Pin-Up Houses shipping container cabin plans by clicking here.
Shipping Container Cabin Conclusion
Building a shipping container cabin is an exciting and creative way to get away from it all. With the right plan, tips, tricks, and materials you can turn your shipping container into a cozy micro home that will last for years to come.
From energy efficient appliances to clever decoration ideas there are so many ways to make this tiny space feel like home. So don't be afraid of taking on such a big project. With some research and planning you'll soon find yourself in your very own shipping container cabin!
Common Questions About Building a Shipping Container Cabin Answered
Q: How long does it take to build a shipping container cabin?
A: The amount of time it takes to complete your shipping container cabin depends on the size and complexity of the design. A basic, single-container cabin can usually be completed within 8-12 weeks if working full-time.
Q: Are shipping containers safe for living in?
A: Shipping containers are incredibly strong and durable when built and sealed correctly. However, you should always check for any signs of wear or damage before purchasing one for your cabin.
Q: What is the best way to insulate shipping containers?
A: The best way to insulate shipping containers is through spray foam insulation. This method has been proven to yield excellent results, It also provides a much higher level of efficiency than other insulation methods.
Q: What is the best way to power a shipping container cabin?
A: In our humble opinion, the best way to power your shipping container cabin is with solar energy. Solar panels are reliable, efficient, cost-effective and eco-friendly so they're the perfect option for shipping container cabins. If you have access to the power from the grid, you could always go that route instead.
Q: Are shipping containers expensive?
A: Shipping containers can range in price depending on the size and condition of the container. Generally, one trip shipping containers range between $5,000 for a 20′ container to $7,500 for a 40 ft container. These are an average of the quotes we received (in Colorado) in 2022.
Q: Are shipping container cabins environmentally friendly?
A: Yes! Shipping containers are made from recycled materials and can easily be repurposed for a variety of uses. Since shipping containers are already designed to be energy efficient and durable, they require less resources than traditional building methods. This makes shipping container cabins an eco-friendly option for those looking to build their own home or cabin.
Q: What are the best resources for shipping container cabins?
A: For a step by step comprehensive guide, check out this resource. It includes four digital books with over 1100 pages learning about shipping container building and living. If you want shipping container cabin plans, check out Pin-Up Houses.
Q: What is the best way to design a shipping container cabin?
A: The best way to design a shipping container cabin is to start with the basics. Think about what you need and want from your shipping container cabin. Then, narrow down your options based on size, materials and other considerations. From there, you can draw up plans, shop for supplies, get started on the build and eventually move in!
Q: What is the best way to leverage each inch of space in a shipping container cabin?
A: Get creative! Think of how you can utilize each inch to its fullest potential. Utilize hidden storage solutions, built-in shelving, and wall-mounted furnishings to maximize space in the shipping container cabin. Additionally, consider adding a loft or mezzanine level for extra storage or sleeping area without taking up valuable floor space.
Until next time,
Krista
---
PIN FOR LATER: