How to Learn Woodworking 
Discover how to learn woodworking step by step, coming from our own experience.
It was June of 2010 and Cully and I just purchased our first home.  It was a 700 square foot condo that we had been renting for a couple of years.  
We loved it so much, we asked the owners if they would consider selling it to us.  After some standard back and forth negotiations, they did! 
The place was finally "ours" and we had a list of things we wanted to update.  Some related to home renovation and others related to furniture and décor.
Excited to make this house our home, we slapped together a budget and started our journey to find the perfect furniture pieces. 
That dream came to a screeching halt when we realized the prices of quality furniture.  We were tired of the cheaply made particle board furniture and knew there had to be other options that wouldn't require taking out a 2nd mortgage. 
And so, our our journey into how to learn woodworking began. Starting from having only a $5 screwdriver, we built our woodworking skills (and tool collection) and are now able to make pretty much any piece of furniture or home décor we want. 
Going this route has saved us thousands of dollars and we've learned ways to make it easy and inexpensive on ourselves. 
How to Learn Woodworking: Skills and Techniques
How to learn woodworking is just like learning any new skill.  It will take time, you will probably make mistakes along the way (just like we did! And still do….) but if the pleasure of having this new skill set outweighs everything else, don't overthink it and just do it (thanks, Nike, for the motivational words). 
My goal is to give you the basic tools, resources and knowledge so you will have an idea of what to expect and will feel enlightened going into woodworking.
The basics skills of woodworking include knowing how to:
1. Select the Right Wood for the Job 
There are various types of wood and to select the best wood for your project you will need to keep in mind how durable you want the piece to be and your budget. 
For example, oak is an incredibly durable, beautiful wood choice….but at approximately $30 for one board (1x6x8), it is not very budget friendly.
On the other hand, the same size common board runs about $10 per board. The quality is not as good, it may take you longer to find straight pieces and you bet there will be some knots, but it is one of the most budget friendly ways to make furniture and home décor. 
In fact, common board is the go to wood we choose when building  furniture and home décor for our house.
2. Use Various Saws 
I was fortunate enough to have Cully to help me get comfortable in this area of woodworking. Let's just say that shop class I took in high school didn't quite stick with me after all these years, so leveraging Cully's knowledge and learning what we didn't know together was very helpful. 
3. Use a Drill
If you are not familiar with how to use a power drill, I recommend you start here.  It is one of the most basic, commonly used tools in our home. 
Unless you are planning to learn how to cut woodworking joints (ie: Dovetail, Mortise and Tenon) right off the bat, the drill will be your best friend for a while.  
4. Use a Planer 
A planer tool reduces the thickness levels of wood surfaces. You can purchase a hand planer or a power planer.  
This tool comes in handy for many reasons.  We used our planer primarily to make sure wood slats are all even and level, once they are connected together (think farmhouse tables tops).
5. Measure and Cut Wood Accurately 
Another simple, yet incredibly important skill is to know how to read a tape measure. Always measure twice and cut once. This will help a project go smoothly and will minimize waste/mistakes. 
6. Sand the Wood and Prep it for Staining 
When sanding wood, it is important to start with the lower grit sandpaper (ie: most rough) and work your way up to the higher grits (ie: smoothest).  The best advice I use when sanding is don't skip a grit!  
For example, if you start at 80, then go to 100, then 120, 150  220, etc…. Don't make dramatic jumps (ie: from 80 to 220).  Your final finish will thank you, especially if you are staining the wood. 
7. Stain and Protect the Wood 
When the proper sanding technique is used, staining should be fairly painless and quick.  Always be sure to protect your newly finished piece with a clear to coat. 
If you used a water-based stain, use a water-based clear top coat. If you used an oil based staging, use and oil-based top coat.  
I tend to lean toward water based products as I find them incredibly easy to use.  But this is more a matter of personal preference.
What Woodworking Tools Should I Buy First?
Now that you have a good understanding of what you will need to know with how to learn woodworking, let's talk tools.
If you're not careful, you could end up spending thousands of dollars just on tools alone.  
So, rather than list off every tool you should buy, I'll focus on the main tools we use when building furniture and making home décor. 
1. Power Drill 
The number one tool we use is our drill.  We use the drill so much that we now have four of them.  You do not need to start with four drills, one is plenty when you're just getting started.
2. Clamps 
Clamps are a must have when building furniture and home décor.  We now own about 30 clamps, varying in size from just a few inches (ie: a hand clamp) and up to 4 feet.  
We've collected these over the years and I don't recommend buying all the sizes all at once, unless you can afford the expense.  
3. Miter Saw
The miter saw is the second most used tool in our house. If you can afford to buy a sliding miter saw, do it!  Ours does not slide but we will be investing in a sliding miter saw one day.
The sliding miter saw means you can cut wider pieces of wood.  Since we do not have a sliding miter saw, we use our table saw or circular saw to cut wood boards over (about) 10 inches wide.
4. Jig Saw
Jigsaws are fairly inexpensive and easy to use.  They are good when you need to make a round cut and my number one go to saw for that kind of job.  They can also be used for straight cuts, but I find the miter saw or table saw do a better job at a straight cut.
5. Planer
As mentioned above, you can buy a manual planer or go for a power planer.  I'd say start with a manual planter and once you get into making bigger pieces, then look into seeing if a power planer makes sense.  
6. Table Saw and/or Circular Saw
If you are starting out with smaller woodworking projects (ie: home décor), you should be able to delay the purchase of these saws.  I 
I tend to like to use the table saw and still don't feel super comfortable using the circular saw.  Cully on the other hand, prefers the circular saw over the table saw. 
Both saws achieve similar results, so long as you can keep a steady hand with a circular saw.  We primarily use them when we need to cut plywood or wood slats that are too wide for the miter saw; usually exceeding 10 inches.
The initial tool investment will more than likely be several hundred dollars.  Try shopping at your local second hand stores first to see if you can find any of the tools there. 
Best Tools Brands
For brand recommendations, we usually stick with Dewalt, Makita, or Wen. Wen seems to have the best prices overall and find their products to be just as high quality for less. 
Harbor Freight has the cheapest tools. But don't be fooled. In our experience, their tools don't last nearly as long as other brands.  But they could be a good resource for you if you are just wanting to see if woodworking is something you want to get into. 
How to Learn Woodworking: the Basics of Woodworking 
As you think through what tools you will start with,  keep in mind what kind of working space you have.
Although Cully and I have been custom building furniture and décor for over 10 years, we don't have a "dedicated" workshop.  We've always just used a portion of our garage or the space outside to work.
Even in the condo, we used about half of our one car garage to build.  That said, I'd recommend a bare minimum space of about 6ftx8ft.  If you are only building small décor pieces, you may be able to get away with less. As your skills progress and tool collection builds,  you will want to adjust your working space accordingly. 
In addition to space, here are a few quick tips for woodworking beginners:
Get to Know the Various Types of Wood Species
I hinted at this earlier and having general knowledge of the different kinds of wood will help you determine which wood will work best for your project.
Pine is an inexpensive, lightweight wood that is yellowish or whitish with brown knots.  It is perfect for things like farmhouse table tops and home décor. Birch and poplar are similar to pine. 
Oak is a hardwood that tends to be very grainy.  It is very durable and is resistant to warping.  The downside?  Price. Oak runs about three times the cost of pine. 
In addition to oak, other higher end wood species include walnut, mahogany maple and cherry.  They are great to use in certain circumstances, but I recommend dabbling in these species once you have a good grasp of woodworking.
Select the Best Looking Lumber
I learned this lesson the hard way many years ago. When picking out wood boards, you want to make sure they not only look pleasing from afar but that they are also straight. 
Wood at the hardware store is usually still wet, even if you can't feel it.  Overtime, the wood dries out and depending how it was stored, it may end up bowing or warping.
Take your time and make sure you are getting the straightest pieces possible. 
Learn How to Read a Tape Measure 
Some of you may have read this twice, wondering if I actually just suggested you need to know how to read a tape measure….and this must mean you have a natural talent to identify 9/16 of an inch. 
For the talented tape measure readers, you can skip this step.
However, this gal had to study and memorize all measurements outside of whole numbers, a quarter inch, half inch and three quarters of an inch. But trust me, it's worth it to know what every notch represents on the tape measure. 
How to Learn Woodworking: A Library of Woodworking Plans
You have made it to my favorite part.  Building! 
The most helpful resource for how to learn woodworking is Ted's Woodworking plans. 
For starters, there are over 16,000 plans included.  Everything from dining tables to chicken coops, if you're looking for it, it's probably here.
We came across these woodworking plans a couple years back and still refer to them on any new build we want to try.  
We often find exactly what we are looking for, or find a plan similar enough that we can tweak it a bit to achieve exactly what we are after. 
I purchased Ted's plans several years after getting started in woodworking, so I knew these plans were for me…but if you are still on the fence about how to learn woodworking, I recommend grabbing Ted's plans and exploring for a bit.
If what you see gets you excited and wanting to start building, then start investing in the tools needed to get the job done and start building. 
And, if for some reason you decide woodworking isn't for you (which I would find hard to believe if you've made it this far), Ted offers a 60 day money back guarantee.  That's an incredible amount of time and one of the best guarantees I've seen.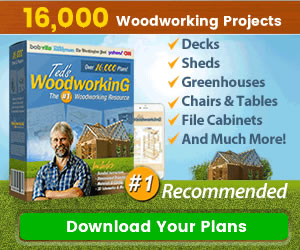 What is a Good First Woodworking Project?
There are many home décor wood projects that are simple to make and require few tools.  These types of projects are great to try in the beginning phases of how to learn woodworking.
Here are a few starter ideas: 
Candle/Accessory Tray
This project couldn't be more simple and it will start to get you comfortable with cutting various angles.  
Simply grab a 1×6 and do a straight cut with your miter saw to make it the desired length. Then, cut one of the sides to a point and voila!  You've got yourself a simple wood tray.
Rectangular Wall Shelves
Wood wall shelves are popular and easy to make.  These shelves require either 1×4's or 1×6's (depending on the desired depth of shelf you would like).
Simply cut the tops and sides of each shelf and glue, then finish nail or screw the edges together.  
If you use screws, drill a pilot hole beforehand and make sure you drive the screw slightly into the wood.  This way, you can add wood filler on top of the screw to make everything blend. 
No need to master the angle cut yet with these shelves.  A simple straight cut will do the trick. 
Wood Slat Wall Décor
The look of rustic wood slat décor is popular in farmhouse, vintage, traditional and many other home décor themes.  
This easy to make wood slat + frame can be made with 1x4s or 1×6 wood.  Cut the wood to size then place the panels together. 
Draw a line of wood glue in between the slats and use the same width board, placed vertically on the back to secure them all together.  
Make sure the slats stay snug in place and one by one, screw the back pieces (usually having one near each end is good), into the horizontal slats. 
Then, use 1×2 wood for the front frame (or repurpose a frame from a thrift store!).  If you're not ready for the angled cuts of the frame, just cut them straight. 
Small Wood Farmhouse Style Stool
A bit more advanced, but still easy enough for a beginner is the quintessential farmhouse stool.  
You can either cut the leg and top shape out of quality plywood using a jigsaw or glue together 1×6 slats (you will want to clamp them as they dry), then cut the shapes. 
Screw the pieces together then screw in a 1×4 or 1×6 near the top of the legs and under the seat to make sure it doesn't wobble. 
Is it Cheaper to Build your own Furniture?
Now for the million dollar questions.  Is it cheaper to build your own furniture?  Oftentimes, questions like this one are met with an "it depends" answer.  
I don't like those kinds of answers, so let's get into the situations where it would be cheaper and where it wouldn't. 
Let's say you're drooling over the idea of having your very own beautiful wood slat farmhouse dining table. 
You shop around and find that you will need to fork out anywhere from $1,200 – $3,000+ to buy this handmade item. 
Building a common farmhouse table is usually a few hundred dollars in materials alone. Then, you need the tools.  A miter saw for sure — so there is another $200-$300 hundred.  
However, even after screws, stain, paint, etc… I'd venture to say you could still get away with that table costing you a good chuck less than the lowest price of $1,200.  
Now, you just have to determine if the time you put into it is worth saving the money.  That's a decision only you can make.
Bottom line is, if you think you will get into building your own furniture and can invest in the tools needed, yes it is worth it.
Every time Cully and I start a home renovation project, we price out cabinets, furniture, etc… as if we are buying it retail versus how much it would cost to make. 
Not once has buying retail been cheaper (unless we can find it used), but then the question becomes, do we want to spend the time to build whatever we need for the remodel.  
With that in mind, most projects end up with a mix of retail bought and custom made. 
How to Learn Woodworking: Finding Projects that Sell 
Many people are interested in finding a way to make money off their new found hobby.  
Being a creative business owner, I have first hand experience with the process of finding woodworking projects that sell.
We handmade various wood home décor pieces and sold them at vintage markets for years.
Oftentimes, the most popular pieces sold were the easiest to make. For example, the wood organization boxes pictured below sold like crazy at shows:  
We built them using (free) reclaimed fence wood and made them with 4 different finishes and usually about 3 different sizes. 
They only cost us a few dollars to make (plus our time) and they sold anywhere from $18 – $36 a box. Many customers purchased multiple boxes and we would offer a deal (like 10% off) in these cases. 
Find a Specific Niche 
Even if selling your pieces is a side hustle or hobby income, you will still want to do some homework to determine what is selling. 
The more you niche your product down, the easier it will be to find your exact target audience. 
For example, my work sold best at vintage markets. Why?  Because that style of market drew in crowds of people that love things repurposed, painted, rusty, etc…
So I created products that my target audience loves (and so do I, so it made it easy!). 
Conduct Product Research 
A couple of quick ways to dive into a product idea is to browse online stores like Etsy, type in common words like "wood organizer box" and see what comes up.  
Check out the top stores that come up and see what is popular.  One way to do this is when you click on an item, it will tell you how many people have it in their cart. You can sometimes view a stores "sold" items, which is helpful to see what is actually selling right now.  
Browse other websites that sell similar items and see if you can sort by "bestselling". 
Keep in mind that super popular items may also mean super competitive. You will want to find a balance of popular, but not oversaturated where you will be selling it. 
Determine Where You Will Sell 
Starting out, you may sell on avenues like Facebook Marketplace or through your social media channels.  These are great places to get your feet wet. 
As you grow, you may look at becoming a vendor at a local shop in your town or even sell at local markets.
If all is going well and you want to grow outside of local selling, you may look at selling on Etsy or build your own website.  
There is no "right" or "wrong" order.  For example, I started selling on Etsy, then built my own website on Shopify (and stopped selling on Etsy), then became a vendor at a couple stores, then sold my products at local markets. 
These tips are simply the tip of the iceberg but you will want to make sure you have clarity on these three questions before you start investing your time and money with a goal of selling your handmade woodworking products. 
What do you think?  Now that you know more about how to learn woodworking, will you take on this rewarding hobby?
Until next time,
Krista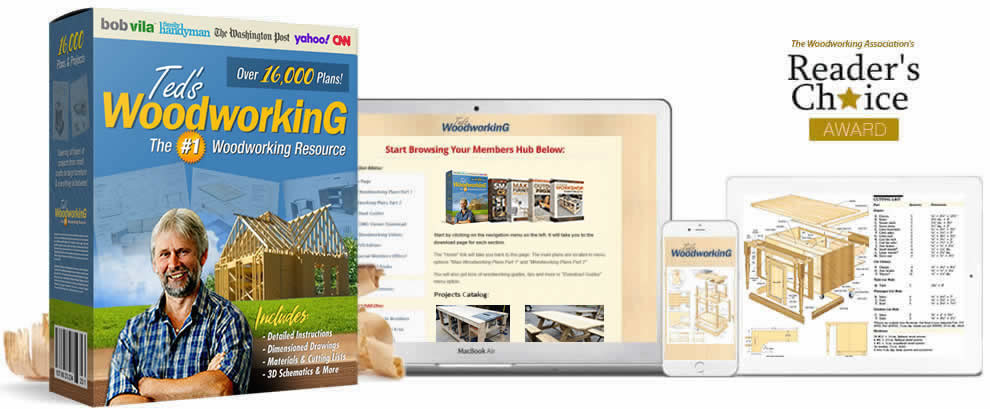 PIN FOR LATER:
**This post may contain affiliate links, which means I may earn a small commission if you make a purchase using one of these links.  However, I only recommend items I personally love. Thank you for your support of my creative business!**