DIY She Shed on a Budget
The almighty she-shed! I was incredibly lucky to have a beautiful she-shed at our old house. Since Cully and I aren't afraid to do the work ourselves, a DIY she shed on a budget was in order for this beauty.
I loved that space…it gave me all of my creative juices flowing so much more than if it were cramped up inside one room with four walls and doors closing off every nook or cranny from natural light.
It also served as an awesome spot where we could camp out with the dogs (cheap entertainment?).
There was nothing like sitting back here after long days working outside in nature under trees overlooking mountainsides. Just you, your thoughts, and your favorite music.
Building a DIY she shed on the cheap was top of mind when we started this project, and it will be our priority for any future projects.
We were hoping to use the existing shed in back yard as inspiration but quickly found that it had too much rot going on so demolition was necessary.
The good news is that because there was an existing old cement slab from previous construction, there were no extra costs incurred there!
We ended up designing our own she shed, which was awesome because we got to be so creative. I found these plans online that were perfect for the size and shape I wanted with a design approach similar to what Cully envisioned.
It's been pretty amazing watching it grow from just slab of cement to a beautiful structure!
She Sheds
The she shed had to be cheap enough so that we could afford it and not have any regrets later. We used some materials from around the house like scrap wood for trim boards and repurposed windows from Habitat for Humanity (it's always good to reuse what you can!).
The best part about building your own diy she shed on a budget is how creative you get with things!
You end up making design decisions based off of what items you might already have or where certain areas need more light/shade than others.
It was really fun coming up with ideas together while sketching out plans…especially when one of us came across an idea that we thought was so cool and the other didn't see it as a possibility.
It turned into our spot where we go when one of us needs time alone or just wants another place to escape from reality.
She Shed Ideas and Inspiration
We work on projects from the ground up, always starting with a plan. I find inspiration by reading books such as:
I recommend these resources as a starting point for your she shed design inspiration.
Our DIY She Shed on a Budget Design
We had an idea of what layout/design would be best suited for our diy she shed…a simple rectangle shape with two windows on either side and double mismatched repurposed exterior doors for the front entrance.
We wanted to make sure that the diy she shed was comfortable for both of us and didn't have any design elements or anything too girly. In addition, we agreed on a color palate to consistently match the house.
Once we had the diy she shed blueprint sketched out and decided what materials would work best for each area/role in it…it became really easy!
We just started doing one thing at a time. It was awesome watching this come together day by day and feeling like we're accomplishing something great while still getting our creative juices flowing.
This diy she shed on a budget allowed me to have my own space for creative exploration and creativity.
We got some great use out of it! Cully has as space to prep his fishing gear, I could spend hours painting with no distractions or getting lost in the internet, we had a place to go when one of us needs alone time, and it was an awesome spot to unwind after long days working outside on projects.
It also served as an outdoor office where I could get things done without having to work up at home.  Just writing by the window while watching birds fly around nearby trees had rejuvenated me so many times in the summer months.
She Shed Plans
One of the first things you'll need to do in order to build your own DIY she shed on a budget is find she shed plans that are within your budget and design specifications.
We were a little overwhelmed with all the different DIY shed plans we found online, but after reading some of Ryan Henderson's shed building instructions and seeing his detailed blueprints for many awe-inspiring sheds–including one that is perfect to be converted into an office space!–we knew he was our go-to guy.
He has several free resources on how to build your own shed, which includes everything from materials needed (tools included) and step by step pictorials on every part of construction so you can do things right the first time!
I figured Ryan would have basic manly kind of designs like most other sites did. Boy was I wrong when scrolling through pages upon pages worth eye candy in gorgeous outdoor living spaces meant for men or women.
It saves time and money to use Ryan's DIY shed plans. He lists out what is needed, so you won't pay for that 'convenience' mark up with a kit!
That way frugal people like us can build the perfect diy she shed on a budget without having to spend more than we need on something just because it comes pre-built.
And, I would not know this from first hand experience (as this is Cully's area of expertise), but every measurement matters when building your own structure; which means none of it will be wasted or difficult once he shows you how each piece fits together perfectly in his plan designs–just as advertised!
Grab his shed plans here.
Tips for Building Your Own DIY She Shed on a Budget
-Build it by yourself or with friends, but get all materials beforehand so you can stay within budget and don't have to make another trip after construction has already started!
-Keep track of what you've spent so far because it's easy to lose track while working on site. Keep receipts from purchases, use a budget planning app or write down all of your expenses as they come up. These records will be helpful for the next section.
-Purchase she shed plans and gather materials before you start construction! It's much easier to pre-plan than it is to do so while working on site.
There are many benefits of building your own DIY Shed. It can be cheaper than buying a pre-made one from stores. Building also takes time and patience which are qualities that anyone can work with. Finally, you get the satisfaction of having built something by yourself rather than just purchasing something someone else has created for you!
One thing to keep in mind about building your own DIY She Shed on a budget is that not everything might come out easy or cheap (depending what materials are used).
How Much Does it Cost to Build a She Shed?
If you want to hire it out, in our experience, it will run somewhere around $125/square foot. The quote we received before deciding to DIY this project was over $18,000.
We spent a fraction of that coming in somewhere between $4,500 and $5,500. That's only $32 – $39/square foot. I give a range because we had several renovation projects going on at once and that is my best guess at what was spent specifically on our diy she shed.
This price includes all materials (lumber, windows, doors, drywall, insulation, etc…) and the cost to hire a pro to wire the electricity.
We saved hundreds by using repurposed materials wherever we could and since we were using an existing cement slab.
How Much Space Do I Need For a She Shed?
A standard size of 12×14 will do for most people who don't have any long-range plans with their DIY she shed. Just enough space for relaxing and entertaining. But, if this isn't big enough then there's larger options available too (and they're still cheaper than pre made ones)!
Keeping in mind that we were using an existing slab, our DIY she shed dimensions were 10×14 (not including the front wood deck we added).
What Type Of She Sheds Can I Build?
There are many types of diy she sheds that you can build–from a table with space for your laptop to an outdoor living room!
You'll know what diy shed design is best by researching which one will work well with the amount of space you have and how much money you're willing/able to spend on materials.
Diy shed kits range in price depending on what kind, but there are cheaper options than pre made ones because it takes less money and time. Building them yourself is better too because you get the satisfaction of creating something.
She Shed Kits
Another way to build your own diy she shed on a budget is buying pre-built kits.
Finding diy she shed plans and building it ourselves was less expensive than purchasing a kit. But if you want something you can assemble quickly without having to do any heavy lifting yourself then buy a she shed kit might work better for you.
The quality of she shed kits vary, so make sure to pay attention when choosing what diy she shed kit will best suit your needs!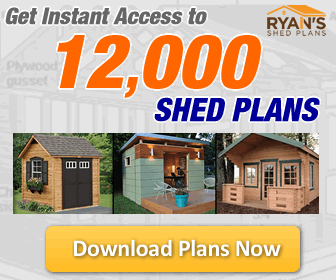 DIY She Shed on a Budget Conclusion
Mark Twain once said "the secret formula for success is just doing one thing every day towards thy goal." In this case, our goal would be building a diy she shed on a budget.
So we might choose something small like reading an article about how someone built their own diy she shed with recycled materials (or even just drawing up some ideas). Either way, doing something every day towards that goal will inevitably lead to success.
I hope that everyone else who wants their own diy she shed will find what they are looking for in this diy she shed blog post. I loved every minute working on it and would recommend building your own diy she shed to anyone!
If you are on the fence at ALL about the process of building your she shed, I encourage you to give Ryan's shed plans a try. It helps in a tremendous way!
The big question now is…what design will we pick for our next house? 
Until next time,
Krista
Related Reading: Home Renovations on a Budget 
PIN FOR LATER
**This post may contain affiliate links, which means I may earn a small commission if you make a purchase using one of these links.  However, I only recommend items I personally love. Thank you for your support of my creative business!**